Attention, our wonderful customers!
Old Town Automobile is OPEN, but our showroom is closed to the public in compliance with the order from Maryland's Governor and to protect our customers from Covid19.  In the meantime,
– Use our website to look around, view the 50+ pics and video per car.  SCROLL DOWN ↓
– Call the dealership owner, Courtney, if you have a question about a car at 301.855.9029.  
– BE SAFE and STAY HOME. Do your civic duty and protect each other by staying home (and shopping for cars online).  
Let's get you in that cool car – the one you always wanted but was just out of reach.
Old Town Automobile sells hundreds of classic and muscle cars, street rods and trucks every year. Our 7,000 sq foot showroom is overflowing with cool rides and auto memorabilia with loads more in off-site garages.
Where you buy your car makes a difference! 
We only sell high quality vehicles
We carefully go over each car before we buy or trade AND we go through a thorough inspection after it arrives.
We own all our inventory and showroom outright.  You're not paying the overhead associated with various loans.
We don't consign cars.   Many classic car sellers only consign cars, some they've never even seen in person.  What?
We don't inflate prices.  Sometimes we can do a better on price.  Sometimes we can't.
After 25 years in the business, we know and love cars!
Scroll down to get started!
Hours: Mon-Fri by appt.
Saturday 10-4, Sun Closed
Call for an appointment
or more info!
301-855-9029
$55,900 – RESTORED, NOM LS5 454 / 390hp engine with turbo 400 automatic…
What customers are saying…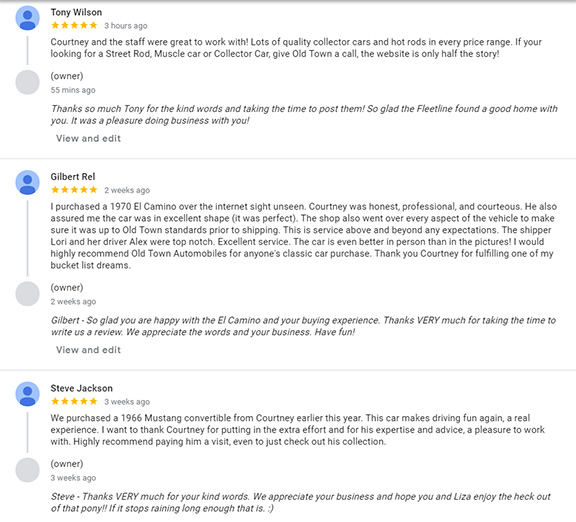 Old Town Automobile
3921 Old Town Road
Huntingtown, MD 20639
sales@oldtownautomobile.com
301.855.9029